Our beloved mother
PAUL NESAM THANGASWAMY
My beloved mother Paul Nesam Thangasamy had lost her husband M.A.Thangasamy Nadar in May 1960. After accepting Jesus Christ as her Savior in the early 1980s, she lived a very simple life in Munnar, Kerala State. Her only passion was her Lord. She used to preach the gospel to every person whom she came across. She was not ashamed of witnessing to others whom she met in the market or in the neighbourhood. She testified that the demons would flee on seeing her. She was an early riser, and used to sing hymns and to pray in the early morning. She completely trusted God for divine healing and hardly visited the doctors for any ailment.
She was a prayer warrior. She actively participated in many all night prayer meetings conducted by those servants of God who yearned after revivals, especially, by the All India All Night Prayer Fellowship, Madurai. Till she attained the age of 73 years, she travelled to many places like Kolkata, Goa, Delhi, etc. for participating in the all-night prayer meetings organized by the said Fellowship.
In 1994, she wrote a letter to Bro.Abraham Rajapandian, All India All Night Prayer Fellowship, Madurai, which contained a word of prophecy about the revival in India. She had penned this letter deeply regretting her inability to attend an all night prayer meeting which was held in Vijayawada, Andhra Pradesh, because of her old age. In fact I had forgotten to post this letter. This letter fell into my hands some days after her death. It was God's providence that I had not posted this letter. Otherwise, I would not have known the words of prophecy contained in her letter. I reproduce below an excerpt from her letter:
I am always praying for a revival in India. My grandchildren are not allowing me to attend the all-night prayer meetings, citing my old age as the reason. However, I am praying for revival in my house. Due to the burden on my heart for revival in India, the Lord has brought me to Delhi. The people of Delhi will be saved very shortly. Due to our fervent prayers coupled with faith, the Lord has been doing great things for us.
My beloved mother spent her last days with us in Delhi, and entered glory on 24th December, 1997 while staying in the house of my elder brother Jeyasingh David.
Job Anbalagan
Glory of His Cross Prophetic Ministries (India)
At the grave of our mother at War Cemetery, Delhi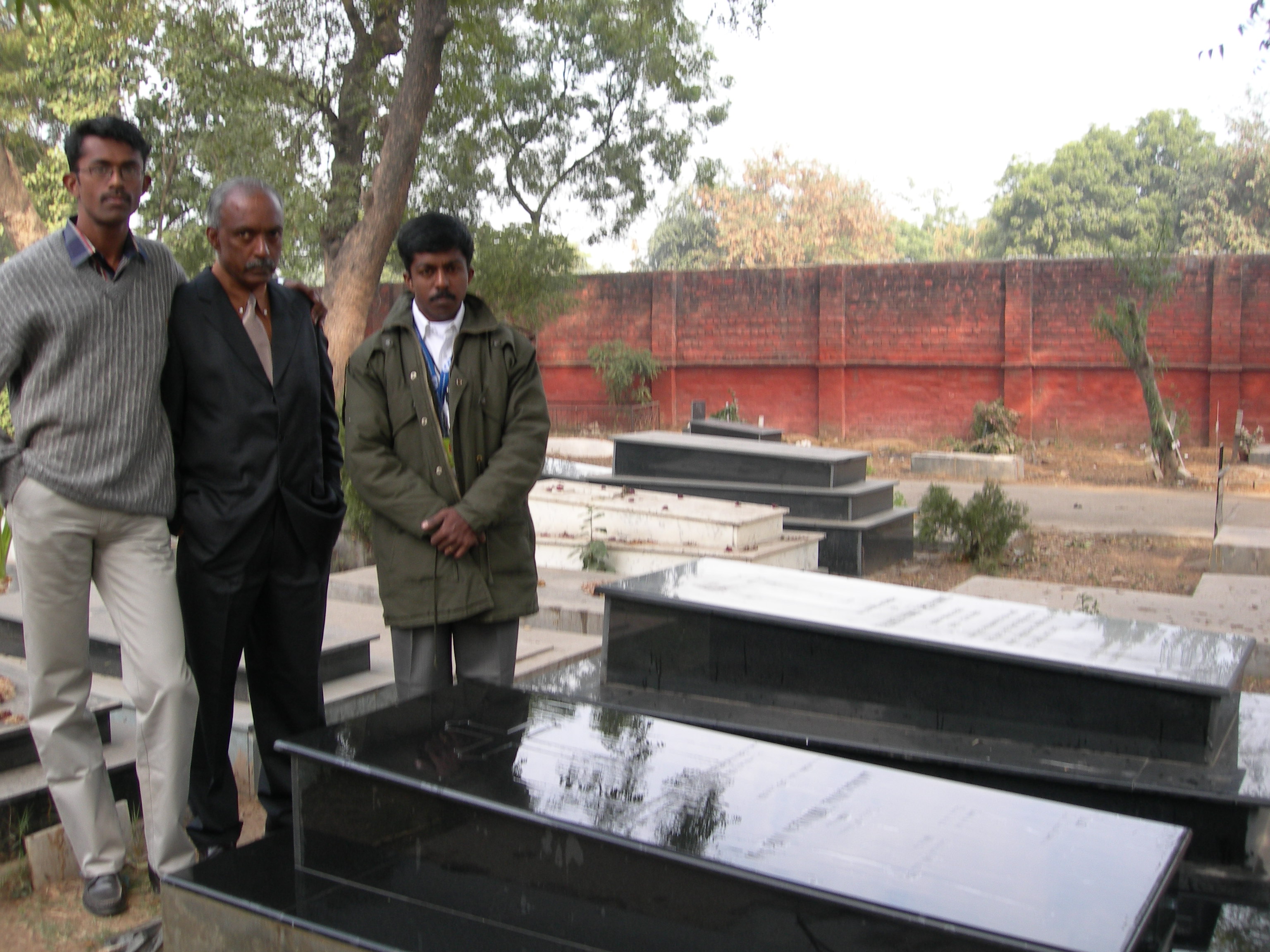 Vinod (grandson), Job Anbalagan (son), Vijay (grandson) (Jan.2006)
Bethany, the house of Revival/Grieving the Spirit of Revival/Will you miss the coming Revival?/The Womb of Revival/"I was in the great Revival"

The Heaven-sent Revival!
The Heavens declare the glory of God
The Lord has entrusted us with a prophetic ministry to the body of Christ, laying special emphasis on the message of the Cross. We publish prophetic messages as and when inspired by the Lord. Some of these messages are revival through prophecy; why does revival tarry?; Building the Kingdom of God;restoration of the church; writing on the wall; vision of the churches of God; ministry of the Holy Spirit, etc. The Lord has given us a vision of the ensuing revival, and has put a burden on our heart for spreading the revival fire, especially, through the five-fold ministry.

WILL YOU PLEASE READ THE BIOGRAPHY OF REV.JOHN LLYOD DORSEY, A GREAT MISSIONARY IN INDIA, WHO PASSED GLORY DURING 2002, BY CLICKING HIS ABOVE PHOTO?
On 24-12-1997, a day before Christmas, our beloved mother Paul Nesam Thangasamy slept in the Lord. Since it fell on a day preceding Christmas, the pastor of my own church, due to his preoccupation with the Christmas celebrations, could not attend the burial service at the War Cemetery, Delhi. But Rev.Dorsey, an American missionary in India, was there, to our great surprise. He did not know my mother personally. He came there to comfort us and to pray for us. This incident is evergreen in my memory. The funeral service was conducted by Rev.Victor, Evangelical Church of India, Janakpuri, New Delhi. We are very grateful to Rev.Victor for the timely help rendered to us on that day.
Job Anbalagan, Glory of His Cross Prophetic Ministries, New Delhi.
Dearly beloved, God speaks to you......
"Do not fear! I am thy God. I will make a way for thee in the wilderness. I am thy Lord that divided the sea, whose waves roared.I will never forsake thee. I am with thee when you pass through the furnace of afflictions. I love you eternally. Cling on to Me. I am thy Shepherd and you are of My flock. You can hear My voice.
Do not remember the former things. You are graven upon the palms of My hands. I do not forget thee. You are precious in My sight. I will do a new thing for you. It will now spring forth"